The National Cadet Corps (NCC)
The National Cadet Corps (NCC) has traditionally been offered as an extra-curricular activity for volunteer students from recognized schools and colleges who enrolled to be cadets. However, under the new National Education Policy (NEP) 2020, the NCC is being introduced as a curricular activity and is being offered as a General Elective Credit Course under the Choice Based Credit System (CBCS).Under this new system, the NCC course for cadets comprises of a total of 24 credits (8 credits for theory, 6 credits for practical, and 10 credits for camp component) over 6 semesters, i.e., NCC Course I to NCC Course VI and NCC Camp I and NCC Camp II. In accordance with the instructions received from the University Grants Commission (UGC), Tripura University has initiated NCC as General Elective for all six semesters in 14 affiliated general degree colleges from 2022.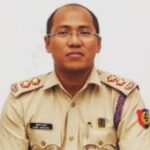 Daniel Debbarma is an Associate NCC Officer (ANO) commissioned at the rank of "Lieutenant" by DG NCC, Ministry of Defence, New Delhi. His unit is 13 Tripura Battalion NCC, under Silchar Group and NER Directorate and is currently posted as an Assistant Professor in the Department of Education at Government Degree College Khumulwng, affiliated to Tripura University (a central university).
In November 2020, he was awarded the "DGNCC Commendation Card" for his dedication and exemplary contribution to the NCC. On August 15, 2021, he was presented the "Chief Minister Appreciation Medallion" during the State Level Independence Day celebration. Received appreciation from the Chairman of the Tripura Tribal Areas Autonomous District Council (TTAADC) on January 26, 2022, at the TTAADC headquarters in Tripura. He also received "Medallion" appreciation from Additional Director General of NCC, NER Directorate on 12th September 2023 during IGC Pre- TSC 2023 at NCC Academy, Jorhat, Assam.
He is a member of the Board of Undergraduate Studies (BUGS) under the Chairmanship of Dr. Jayanta Chaudhury, HoD, Department of Rural Studies Tripura University for NCC subject and is the convener of the NCC Syllabus drafting committee. In addition to his contributions to the NCC, he is currently pursuing a Ph.D. in the Department of Education at North Eastern Hill University (NEHU) in Meghalaya.
He has written many articles in different edited volumes and presented more than 20 papers at national and international seminars. He has 8 chapters in edited volumes and co-edited a book.